UESA SECRETARY-GENERAL ELECT, UNIVERSITY OF EMBU, DURING THE  SWEARING IN CEREMONY FOR THE 5Th STUDENTS' COUNCIL HELD ON FRIDAY,30TH AUGUST, 2021 AT 8:30 A.M. IN THE UNIVERSITY CHARTER HALL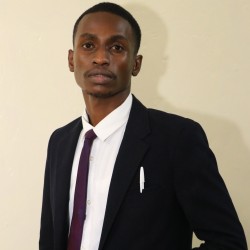 Vice-chancellor- Prof. Daniel Mugendi, 2 DVCs ARE & PAF, Members of the University Management and Senate, Dean of students, the Commissioner for Oaths, the Outgoing Students' Government, the Incoming Students' Government, Staff & Students. Good morning.
I Max Ndeke Omario, first want to thank almighty God for this good bright day not forgetting comrade fraternity for believing in me and making my victory possible. Which I promise will not only be my victory but the victory of all comrades. Secondly, I want to thank Electoral Commission and University Management at large for providing free, fair, and credible elections where the voice of all comrades was heard through the ballot. 
Moving forward as the spokesperson of all comrades, I want to assure you I will be a good diplomat who will not shake with his right hand while holding a rock on the left hand back. This is guaranteed by the virtue of understanding and negotiation where need be.
Not only from the bottom line of my heart but also from its top and middle too, I want to extend an olive branch to our opponents who did not make it to the Council. So that, we can work as a team, by sharing ideas across the ideological spectrum. In which I believe we shall not only make the University of Embu to be the best STATE CORPORATE in the country but also to be among the WORLD CLASS Universities.
Finally, as Mahatma Gandhi said  (and I quote)" Strength does not come from physical capacity, it comes from an indomitable will"(end of the quote). Therefore, am calling all comrades of goodwill and University Management to a round table, to support us in the best way possible so that we can build a harmonious and prosperous University of Embu. God bless comrades, God bless the University of Embu, God bless Kenya. 
Thank you.
Regards,
Max Ndeke
UESA Secretary General (2021/2022).